As you might be knowing, Instagram Reels, which is Facebook's response to TikTok, is now available in 50 countries, and used by millions of users daily. Reels is a feature that is an addition to the previous Instagram platform, that lets you record, edit, and upload short videos. The length of the video can be up to 30 seconds.
It is a TikTok replica, but is used in a very different way by users of Instagram. You will find more sophisticated, inspirational, and creative content on Instagram reels. It offers a lot of editing tools, AR effects, speed controls, and lets you combine multiple videos to create seamless transitions.
If your Instagram account is public, your Reels will be shared on the Explore page, which means that the people who don't follow you can also discover your content. This is a great opportunity to reach new audiences, especially for businesses. 70% of users engage with brands on Instagram, with videos getting 38% more engagement than pictures. Thus, imagine the amount of reach Instagram reels can bring to your business profile! 
In this article, we'll walk you through the ways in which you can use Instagram reels to reach more people and grow your brand on the platform. 
Let's dig right in.
How to grow more followers using Instagram reels
Now, let's discuss all of the above points one-by-one.
1. Embed Instagram Feed on Website
Marketers spend a lot of time planning and making their Instagram feeds to build a robust and authentic online presence. So why not take it to the next level and leverage the Instagram feed on the website? 
By embedding an Instagram feed on the website you can reach a wider audience while getting more followers on Instagram. When people go through your Instagram feed on the website, it automatically builds trust and establishes you as a credible brand in the market. 
Moreover, people spend more time on the website looking through your feed improving your dwell time. The more they see, the more you deliver social proof, eventually boosting your conversion rate and sales.

2. Share educational content 
People on Instagram are not only using the platform for scrolling through entertaining content or memes. They are somewhere looking for inspiration, knowledge, and motivation too. That's the only reason why reels are used broadly for providing tips and tricks. As a business, you can create videos that inspire people through educational content. 
For example, people are creating videos showing exercises that can be done at home, best things to do at a particular holiday destination, phone photography tricks, etc. All the amazing tips in just 15-30 seconds! These kind of videos are super engaging and make people want to follow your account for seeing more content. 
3. Show off your products using Instagram reels
One of the most noticeable uses of Instagram Reels is to highlight your goods, programs, or, in the case of Netflix and Amazon Prime, your shows. A short-form video is an excellent content medium for teaser videos because it allows you to spark the audience's interest and pique their curiosity.
After the introduction of Instagram reels, the amount of cinematic content produced on the platform has increased dramatically. These bite-sized videos can be used effectively to showcase your products. Shoot your products in action. Record videos of yourself using the product. Show how to use them and describe their features. 
4. Post at the right time
Creating unique, creative, and engaging content is definitely the most important aspect to gain more views on Instagram reels. But, if the videos are posted at a time when your audience is not using the platform, even the most powerful content will not produce results. You need to find out the best time to post reels on Instagram and post the right content at the right time.
You can find this data by having a look at the analytics offered by Instagram. If you still can't figure out when to post, check out this detailed guide on how to find out your unique best time to post on Instagram.
5. Use trending songs in Instagram reels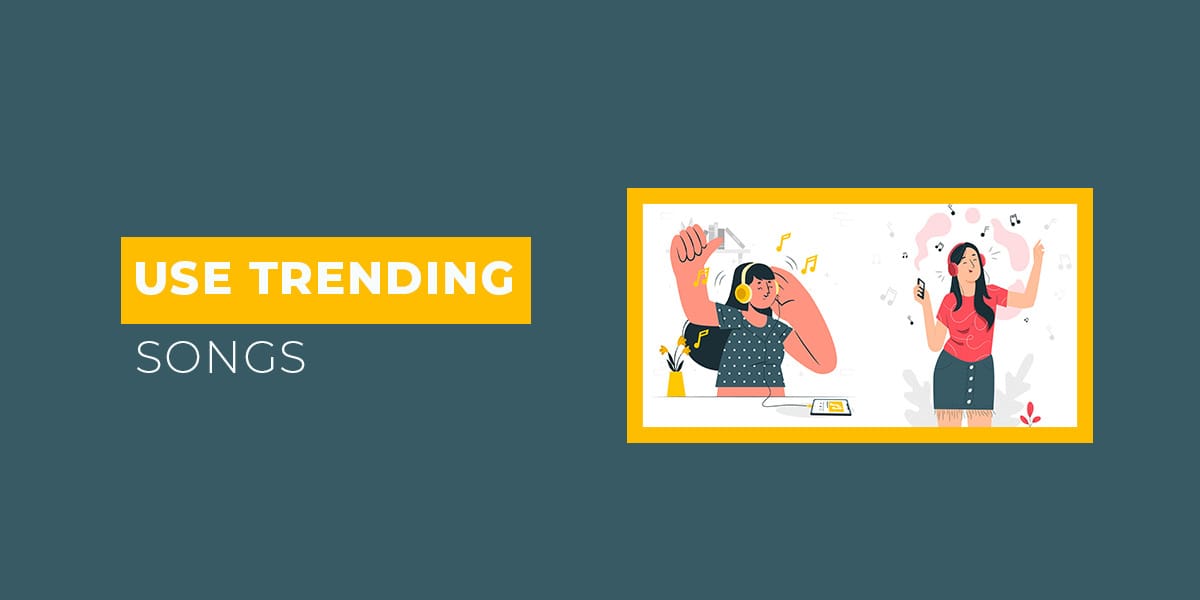 If you have used TikTok before, you might know this tip. One of the easiest ways to grab the attention of people on Instagram reels is by using the trending songs in your videos. This helps because people are actively engaging with videos made on such sounds/songs. 
It makes your videos pop-up more in the explore section, ultimately leading to more views and interactions. The way Instagram reels has done it is when you tap on the sound used in a video, it takes you to the sound and shows all the popular videos that have used the sound. 
6. Set an eye-catching cover
You can set a customized cover (thumbnail) to your Instagram reels. It is useful because when people visit your profile and go through your feed, an attractive thumbnail will prompt them to click on the video and watch it. This sends a message to Instagram regarding which videos are viewed more than others. Apart from thumbnail, there are different templates which specially designed for Instagram such as Instagram Post Template, Instagram Post Creator help to create captivating and stunning templates for gaining more followers. 
And this again helps in getting more coverage in the explore section. A customized cover can also help while planning the look and feel of your grid. You will be more clear about how your profile will look after the reels are uploaded. Your feed aesthetics and color palette will not be disturbed by random pictures showing up from your videos.
7. Repurpose old TikTok content
If you are already creating content for your TikTok profile, there's no reason why you shouldn't repurpose that content for Instagram reels. Pick up the videos that were liked by people on TikTok, and recreate them again for your Instagram audience. You can simply repost them on reels or shoot them again according to the interests of your Instagram audience. 
If you are simply reposting them, make sure you remove the TikTok watermark, as Instagram doesn't promote videos repurposed from other platforms. This way, you won't have to come up with different content ideas for both of these top social media sites.
8. Start a new challenge on Instagram reels
TikTok challenges are one of the most fun and engaging elements of the platform. And no wonder, the trend has also shifted to Instagram reels. It is, in fact, widely used by influencers on the platform. For example, the #10yearchallenge is used on more than 4 million posts on Instagram. 
Noticing the craze of challenges, big brands have also started coming up with unique challenges of their own. So, it just makes sense for you to jump on the bandwagon and gain more exposure.
9. Share videos of customers
When you shoot and share the videos of your products, your audience is at the 'before' stage – Before your products or services have added value to their daily lives. You should also focus on the 'after'. Reshare any content that has been uploaded by your customers showcasing your products. 
User-generated content is the most powerful and easiest way to build a loyal follower and customer base. If you offer services, reach out to your existing customers and ask them to shoot a review video. Show your products and services being used by customers and state the benefits that users are getting from them. Showcase the desired outcome of the prospects and entice them to become consumers.
10. Use relevant hashtags
Whether it is a normal post or reels, using relevant hashtags is vital to increase the reach of content on Instagram. Just like the normal image or video posts, you can use up to 30 hashtags while uploading Instagram reels. It is pretty obvious that you need to use popular as well as relevant hashtags on your videos. 
Avoid the use of hashtags like #follow4follow or #likeforlike. They make your content and account look spammy. You can refer to accounts in your niche and see what kinds of hashtags they are using. You can also use hashtag generator tools like Ingramer that are available for free on the internet.
11. Partner with influencers
Instagram Influencer marketing has already skyrocketed in the past few years. Brands are constantly teaming up with influencers to increase their reach. Even huge brands like Walmart and Nike regularly use influencer marketing to promote their products. This is because Influencers have established their personal branding and built a dedicated audience who love their content and trust what they recommend.
Find out the influencers who belong to your niche and collaborate with them to produce reels relevant to your brand. This way, you will reach a massive audience in no time. The best part is that you don't have to be directly involved in creating engaging content that your target audience will love.
12. Show behind-the-scenes
People buy products and services from other people, not from businesses. You need to humanize your brand, and Instagram reels can help you do that. By sharing behind-the-scenes videos, your audience will be able to connect with you at a personal level. They will feel like a part of the family.
Show them how do you produce your products or deliver your services. Share how do you spend a day at your workplace. Record the mistakes or goof-ups, and how you feel frustrated when a task doesn't turn out as planned. Share the experiences of your employees, and how they have fun during tea breaks or birthdays. All these aspects will make your brand stand out from others, increase customer loyalty, and add more people to your customer base.
Takeaway
Instagram reels is wide open, waiting for you to embrace it! 
Brands using Instagram reels are seeing a noticeable growth in their engagement rate and followers, and you can get that too. Try to make them a vital part of your social media marketing strategy. Remember, the more your followers are engaged, the more profound your connection would be, which is an excellent way to increase sales. So, get out there and get creating!