So you want to make an impact on the social world and make some money out of it? Then, let's see how to become a leading social media influencer in 2021!
Influencer marketing is a hot marketing aspect that everyone is speaking about today. It has become a common social media marketing technique and is no longer confined to a small few brands or agencies. There is a rise of influencers in almost every major field. Brands are making them a part of marketing strategy now more than ever before. Becoming an influencer has become so appealing that it is no surprise that everyone wonders how to to be one in their specific industries.
If you're one of those people who would love to become an influencer, then you've landed in the right place. In this article, we're going to address some simple tricks and tips on how to become an influencer. So, read on and begin your journey to being an influencer.
1. Choose your niche
Before you start to put in efforts to become an influencer, you need to decide your niche. You need to pick a niche that you're interested in and are ready to regularly build content about. You should also have some kind of experience in the area in order to be able to develop yourself as an influencer. 
As an influencer, you will need to study and post content related to your desired field of interest. So it's very crucial to pick something that you're excited about and love investing your time on. Whether you enjoy cooking and discovering different recipes or are skilled in DIY art, you need to discover your calling. You can also opt for 2-3 interests to work on, but remember not to make it way too broad.
2. Enhance your social media profiles
Once you have decided the niche that you'll be working on, the next thing to do is to select the social media platforms that you'll build a presence on. There are tons of social media sites out there, but you need to begin by picking up 1-2 platforms, say Instagram or YouTube.
A majority of the influencers are well-known on a maximum of one or two social media sites, so it's best that you put in all the efforts on a channel or two. When you have picked your platforms, you either need to create new profiles or enhance your current ones. You can do the following things in order to optimize your social accounts:
Switch to a business account: If you're looking to become an influencer, you need to move to a business account as this opens up a lot of possibilities. All leading social platforms such as Instagram, Twitter, and Facebook, have the option of creating a business account in profile settings.
Write an interactive bio: Your bio is, no doubt, the first thing that someone sees when they open your profile and is, therefore, it is an essential part of making a good first impression. Try to tell your own unique story in an engaging way. Let people know what they should expect on following your account.
Update profile picture and cover photo: Keep your profile picture as well as cover photo updates, as most people will associate your profile with them. Make sure that your face appears clearly and the picture is of high quality. 
3. Know your audience
You need to consider your target audience before you start making content and sharing it on social media. Influencers have an impact on their followers and close connections with them. This is because they don't appeal to everybody but rather people with common interests in the same niche. To become an influencer, it is important that you know who you are engaging with and then take steps to develop a loyal follower base. 
To know your audience, you should start by evaluating your existing follower base to get information about their demographics and desires. Many social media sites have built-in data analytics to offer insights into current followers. For example, Twitter Analytics offers insights into the interests of your current followers, their gender, location, etc.
4. Create relevant content
Now that you are aware of your audience's interests, you can start making content that resonates with them. The more you will be able to relate to them, the more people will get influenced by the recommendations and opinions that you give. The most important aspect of becoming an influencer is to make your audience listen to you.
You ought to develop a content plan and use a variety of content styles, preferably those that your audience would enjoy the most. Some influencers keep their feed on their preferred area of interest, such as food, travel, fashion, makeup, etc. They don't mix up posts about their personal lives. While some of them add a bit of personal touch to connect well with their audiences. Whatever content strategy you opt for, remember to make it broad enough to naturally fit collaborations in the future.
5. Maintain consistency
Your influencer game can only become strong if you are consistent with your content. You need to select a frequency at which you'll post on your desired social media platforms. Many of the social media network algorithms give priority to accounts that post on a frequent basis. This is particularly true for Instagram, which needs a regular frequency of posting for improved exposure. Today, Instagram also happens to be the biggest platform for influencer marketing.
Platforms like Twitter are more dynamic and may require you to post multiple times a day. Other ones like YouTube and Facebook can be managed by posting once a week. 
If you are looking to post on multiple platforms consistently, you can ideally use a tool to streamline the process. A social media scheduling tool like RecurPost will help you manage multiple social platforms together, schedule your posts in advance, prepare a content calendar, auto-schedule your posts for the best times, and ultimately help you grow yourself as a brand.
6. Amp up your hashtag game
Hashtags are the best way to reach more number of people. All social media platforms allow you to use hashtags on your posts. They make your posts reach the people that might be interested in your content but have never come across your profile. Through hashtags, they can discover and follow you if they like your content. 
Instagram allows you to use up to 30 hashtags in each post. On Twitter, it is ideal to use two to three trending hashtags related to the topic of your tweet. The number and kind of hashtags that you use depend on the platform that you're posting content on. You should also create your own hashtags so that fans and interested users can also use the hashtag that you have created to create exclusive content about your brand or influencer trend in the long run.
7. Engage with your audience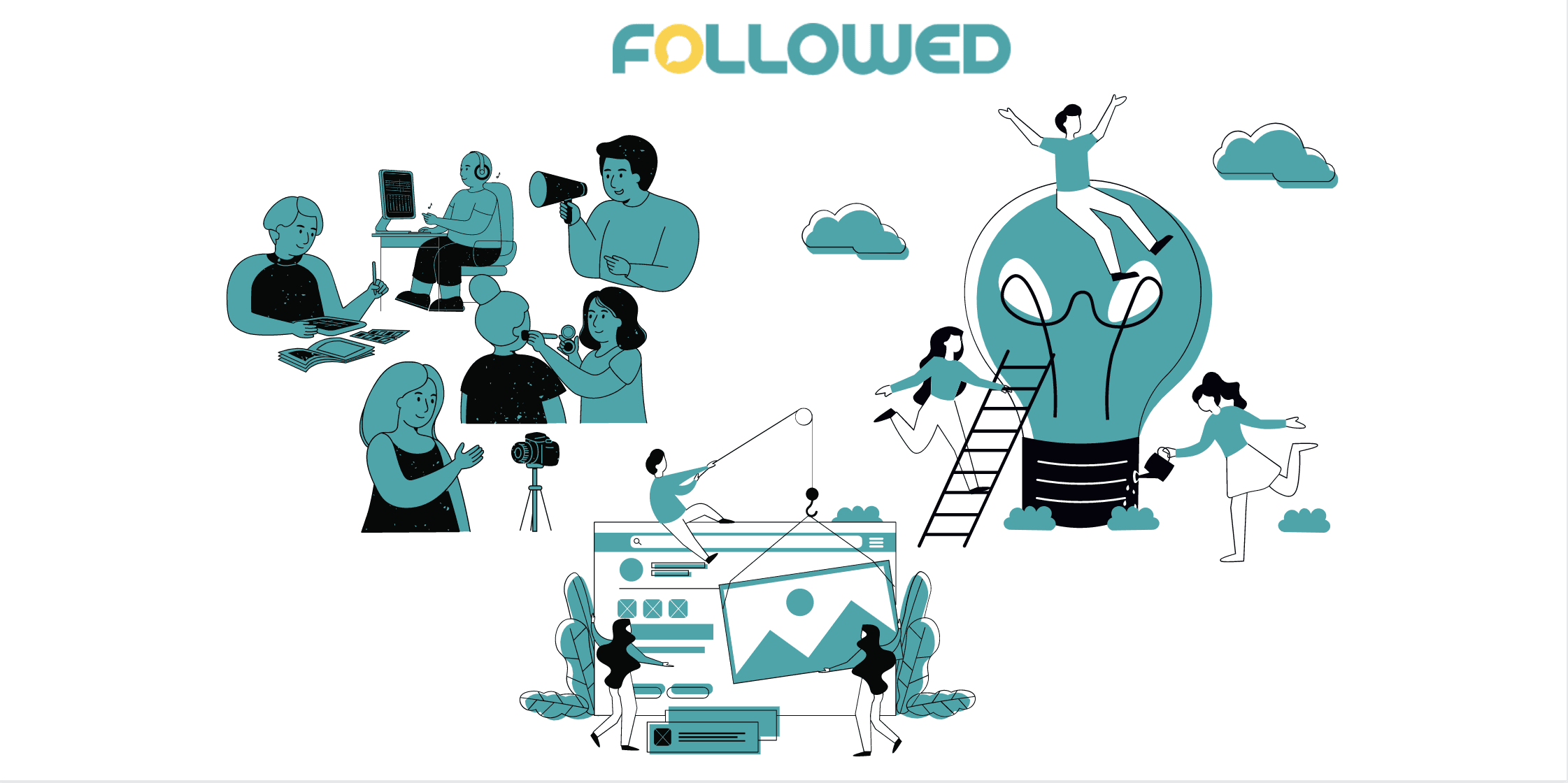 When you start posting content regularly on social media, you will definitely get likes, comments, and feedback on your posts. It is important for an influencer to communicate with their followers, so you cannot neglect these comments. You need to develop the habit of replying to all comments and answer any questions that your followers ask. 
If there's nothing to reply to, you can just like their comments to show appreciation. Another way to interact with the audience is to raise a question and begin a discussion on a matter of common interest. Interactions like these help create personal relationships with your followers and improve your role as an influencer.
8. Grow your follower base
By staying consistent and true to your content strategy, you'll gradually notice an increase in your followers. In the beginning, getting organic reach will seem to be difficult. You can run ads too, in order to reach more people and make your content visible. Focus on growing an initial follower base so that you can start getting brand collaborations.
9. Let brands know you are open for collaborations
The last move in your quest to become an influencer is to reveal it to the public. You ought to come forward and admit that you're an influencer who's interested in doing brand collaborations. You can do this by simply mentioning in your bio that you're open to collaborations. Also provide contact information for prospective brands, providing them a convenient way to contact you.
Another way of doing this is to make your own outreach and contact related brands with a presentation for what you can offer. It's best to build an outreach template that you can utilize to reach out to various brands, which will save you a lot of time. There are a range of influencer channels where marketers and influencers can find each other. You may also use them to identify brands in your market that are searching for influencer collaborations.
Conclusion
Becoming a kick-ass influencer is not an overnight job. It demands a lot of effort, hard work, consistency, and courage to win the hearts of people. While getting the attention of people is not easy, maintaining them is another difficult task. You first have to create room in their hearts with your content, and then you'll excel in becoming an Influencer yourself. So, start today, identify your audience, create content, and schedule them using RecurPost so that you never miss out on posting content at the right time!