Searching for some inspiration to create a winning Instagram video? There are more than 95 million photos and videos posted every day on the app garnering over 4.2 billion 'likes'. 
With so many engaging images and videos demanding attention, it can be a tough competition to stand out in your audience's Instagram feed. 
To get users actively involved with your brand, a social media marketing tip is to create videos no matter in the form of Instagram Stories or Reels. 
Videos are more effective in engaging users on the social media platform, with Instagram reporting an average of 150 comments on video posts while image posts only see an average of 65 comments. 
So how do you do it right? Let's look at eight creative Instagram video ideas along with real-brand examples that you can take inspiration from.
1. Capture attention with loop videos 
Instagram videos don't have to be long to be effective. Having just 15 seconds to play with, you can use a loop video, boomerang, or even GIFs to get your message across twice or thrice.
This video idea was creatively carried out by meditation and wellness app Calm, as it uses looping videos to lead its followers into micro-meditation. 
Another great example is from Google with this hypnotic and oddly satisfying mini-golf looping video, which we ended up watching for more than 15 seconds. 
A quick tip for creating loop videos is to make sure you have a great hook in the first 3 seconds of your video. 
2. Connect with storytelling 
Sometimes, we are so awash with brand messaging that we forget Instagram is where users go to get visually inspired. 
To get Instagram likes, increase engagement rates, your Instagram video doesn't always have to showcase your products. You need to become a storyteller instead. 
Nobody does this better than Red Bull. The brand promotes an entertaining "way of life" and their Instagram videos reflect just that by posting incredible videos of extreme sports, with everything from skateboarding to motorcycle stunts. 
Through these videos, Red Bull has successfully emphasized its brand's value while pulling in potential customers who love an adrenaline moment. 
3. Educate with how-to tutorial videos
There is always a demand for how-to tutorial videos, and they can be the most effective tool when it comes to inspiring engagement and converting customers. 
Just take Sephora, for example. Working in the beauty industry, the company shares makeup tutorials on IGTV featuring its products. 
In addition to educating users on how they can use your products, you can also make followers get excited to give the product a try.
So think about what kind of tutorials your followers are looking for and make a fun video with quick and easy-to-implement instructions featuring your product. 
4. Tease about your upcoming launch 
Teaser videos are great for promoting upcoming events or the launching of new products.
By sharing a peek into some exciting parts, it intensifies the hype and excitement surrounding your new product or service. Followers will start anticipating it before it is even available.
An example of a successful teaser video is from a popular Columbus ice creamery called Jeni's Ice Creams. 
Instead of sharing the standard food porn imagery, you'd expect from food brands, the brand released a funny and entertaining video featuring Colombian citizens trying to pronounce the tricky German name of their soon-to-be-launch ice cream.
Get ready, it's called…Feuerzangenbowle. 
5. Work with the right influencers 
Influencer marketing isn't a new concept, but it is definitely effective in terms of engagement. 
When working with an influencer, it's important to find a personality that matches your brand. Don't just look at their number of followers, but also consider engagement metrics, such as the number of comments, comments quality, and average views per post. 
Speaking of successful matches, we will always remember the travel envy feeling when watching this beautiful video by travel influencer Jack Morris in the #SevenUrbanWonders campaign that spotlights Tokyo city life and Hilton's luxury resorts.  
Done right and you will not only look at increased engagement, but better brand awareness, increase followers, and also new business leads. 
6. Show what happens behind the scenes
Behind-the-scenes video content is a great way to build a more personal relationship with your audience. By introducing backdoor access to your brand operations, you can create a more authentic and intimate connection with your followers. 
Freight processing may not sound particularly interesting, but General Electric has made it work by taking users behind the scenes in this 15 seconds video.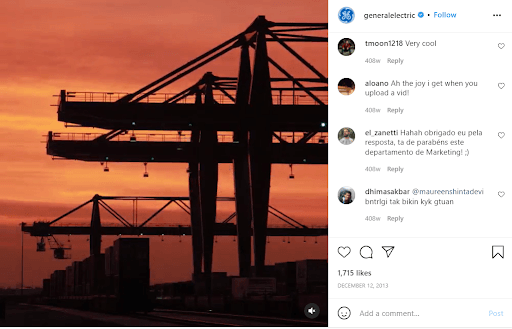 The company cleverly summarized its 24-hour operations using time-lapse with the last frame inviting users to visit ge.com to learn more. 
Some other behind-the-scene video ideas you can consider: 
A personal tour to see how and where your products are made

Introducing the people behind the brand and product

Special company functions or brand events

A typical workday in the life of your employee
7. Encourage user-generated content

Some of the greatest Instagram videos are created by your followers. This is because nothing builds trust in a new audience like seeing others enjoying your service or product. 
Boucleme, a company that creates products for curly hair, found a clever way to share their customer's endorsement. 
Not only does the video showcase positive feedback from the customer, but it also teaches the best practices on how you can use their product to get the same great results!
 When it comes to kickstarting your UGC campaign, a tip is to be mindful about optimizing your hashtags. Make your hashtags too generic like #hair or #fashion, and your content will drown in with millions of others. 
Instead, use a mix of trending and industry-specific hashtags to find the best hashtag you can connect with your targeted followers. 
8. Host an AMA session
AMA stands for "Ask me anything" and it is a great opportunity for brands to engage directly with their followers. 
The video idea is simple. Make a post asking for questions from your followers and answer them! Though most brands use this as an opportunity to sell their products with advertising, clothing retail company Everlane sells the company itself. 
By launching a Transparency Tuesdays video campaign using Instagram Reel, Everlane allows customers and followers to send in questions and have them answered by the brand.
By being transparent about their business and processes, the company establishes trust with consumers and finds customers who align with their own values.
This Instagram video idea is especially great for personal branding and is suitable for a brand spokesperson or for those who want to establish themselves as a thought leader in an industry.  
Conclusion
When it comes down to it, Instagram is like a blank canvas for you to express your brand's personality. 
Whether that's posting an informational video, sneak peeks about your latest product, or showing a different side of your brand with storytelling, you have to plan out a creative Instagram video idea that is fitting for your brand.  
Lastly, remember that the most successful Instagram videos are those that win customers, so always include a strong call-to-action at the end of your engaging content to get your audience to share and learn more.