Youtube is a platform that can get you in the limelight within hours. From the weirdest content to the best ones, youtube is a hub of creativity. But what stops a viewer from scrolling to watch your video? It's your Youtube channel art and the thumbnail of your video. Yes, the first impression matters a lot and your banner is the first impression of your content to the audience. So in this article, we'll be discussing the best Youtube banner makers to help you stand out from the crowd with the best possible channel art.
It's hard to catch the attention of viewers among the millions of Youtube channels. But don't worry, Youtube cover can help your channel to grow. Not all of us have a budget to hire a web designer. Youtube banner makers are there for the rescue. They are like blessings for the small creators.
TIPS FOR CREATING YOUTUBE CHANNEL ART
While designing a banner for youtube it's important to create something professional and creative to get the attention of the viewers. For example, if you're starting a gaming channel you would need a gaming banner for youtube to define your channel. Hence, it's important to create artwork that is related to your channel. Here are some pro tips to help you:
Keep everything at a place where it's properly visible. Hence, towards the center. Your video content must be clear by your youtube video thumbnail.
Consistency with your existing brand
Every artwork you create using a Youtube channel art maker should be consistent with the previously uploaded video thumbnails and the cover of your Youtube channel. This gives a symmetrical look to your channel and becomes attractive to the viewer. Try to stick to your brand elements to make your channel recognizable on the other platforms too.
Try to add your brand slogan
Make your tagline or brand slogan a little catchy and add it to your cover as well as the video banners. This helps to leave a lasting impression on your viewers and also helps to define your brand to give clarity to the audience.
Choose the correct font and size
It's challenging for a mobile user to read if the font is small. So remember the size of the font should be visible to each and every user. And don't forget to resize your channel art according to the Youtube requirements. 
15 FREE Youtube banner makers to make your Task Easy
Canva offers over 2 million images and hundreds of backgrounds and fonts to satisfy your needs. It is one of the simplest online youtube banner makers. It has a simple drag and drop type function which makes it easier to use by the users. The only drawback of Canva is that you have to pay to access certain images and designs.
So choose the options which are available for free and create some fantastic youtube banner templates for your channel.
Bannersnack allows users to create some really up-to the mark banners for their channel. You can start by using a template or customize the banner size. Pre-baked templates and in-built assets such as fonts, text presets, and more will help you in designing your banner quickly.
This youtube banner maker is completely free to use. It has finely-tuned tools that provide you a professional space for creating what you exactly want. The drawbacks of Bannersnack are that the templates will have a watermark, so you need to go premium for that. Also, if you're designing multiple banners, you have to manually copy the elements which waste your time.
Venngage is a spectacular, user- friendly design tool. You can start by customizing the built-in templates or choose your own designs to work upon. It also contains a collection of stock photos, illustrations, and clipart. You can also add your own logos, images, or other elements you need in your design.
The only downside is that you can't export the JPG format for your design. Only PDF or PNG can be exported. It is available in both: free and paid versions. There is a variation in the services for the paid ones.
Adobe Photoshop is a well-known photo editing software. We can't exclude it from this list as it's one of the best editing tools available in the market. You can create advanced banners with high resolution here. You can give it a try with a seven-day trial. But it's paid version is quite expensive. If you can switch to photoshop, it will ensure a professional setup for creating your youtube cover template. The paid version is available for $9.99/month.
Adobe Spark is a great design tool to start with for beginners. It gives a glimpse of how to make creative banners for youtube without even having knowledge of design.  It has the option to view the works of the other designers which will inspire you to create something out of the box.
Adobe spark has a good collection of templates to satisfy your design needs for your youtube banner template or youtube cover template. You need not worry about the right dimension, it gives you the exact dimension for the youtube banner. It's a paid design tool, $9.99/month. A free trial of 7 days is also available.
Another online youtube banner maker which is worth it is Visme. Visme just makes your design process easy peasy. It has an exclusive collection of 50+ free templates and hundreds of fonts and clipart to use. The free vector icons, editable color schemes, and shapes give you an additional advantage to add the spark to your banner.
The Best part is you can also add your own fonts, designs, and color elements to it. But this feature is only available for premium users. This limits up to your options for your brand cover with the free version.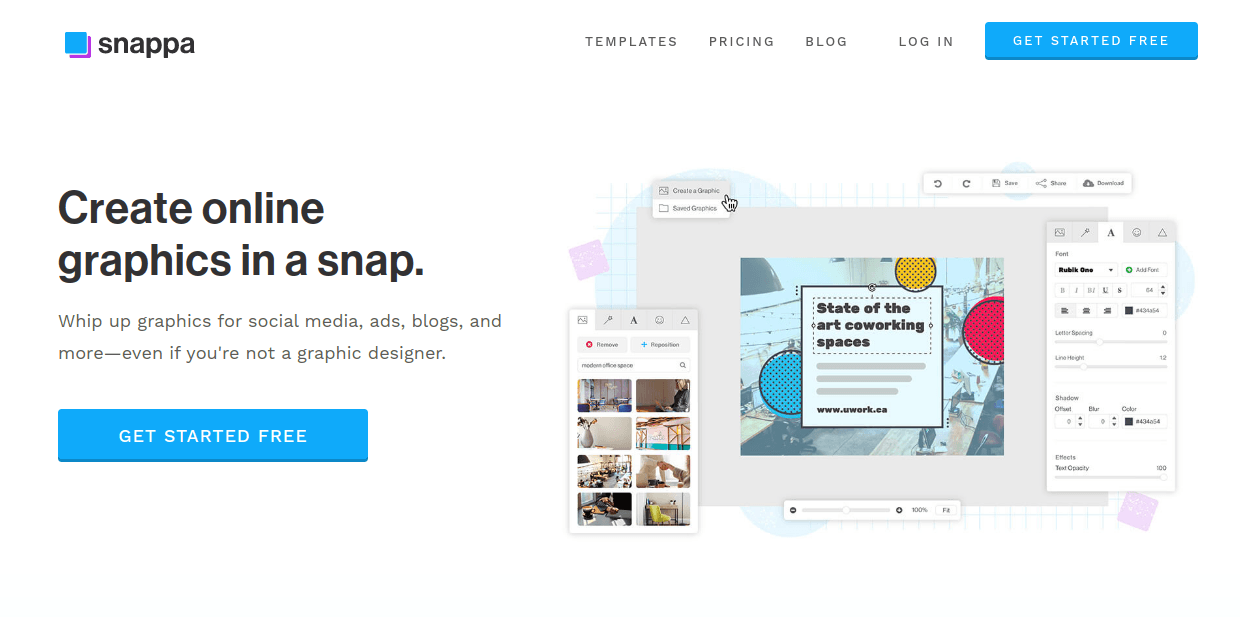 Snappa is a user-friendly youtube channel art maker. It offers a wide variety of high-resolution stock images also attractive templates and hundreds of graphics, text, and shapes. You can also upload your images and logo in the banner.
The outstanding feature of Snappa is that you can resize your image as per your requirements. This helps you to post the same image on different social media platforms. The freemium version is limited to up to 5 downloads only. The premium version is available at a reasonable price and the starter pack is free of cost.
Befunky is one of the easiest online youtube banner makers.  For the freemium version, you don't even have to register or login for using it. It creates your youtube background in a few simple steps. There are professionally-designed templates that will provide you an insight into the world of design. But at the downside, some options are only available for premium users. Still, there's no doubt it's one of the best youtube background makers available online.
Fotor is one of the popular online youtube banner makers, with over 300 million users. It has in-built beauty filters for retouching portraits. A wide range of collage grids and templates to give you the best experience of editing your youtube banner.
Fotor is free to use, but the premium version is also available starting at a low price.
Fotojet is an all-in-one youtube channel art make. It's a photo collage, editing, and design tool. You don't have to register for it, it's an open-source of designing your youtube channel art. They offer professionally designed templates specifically for Youtube channel art. It's available for free and will help you to gear up your designing skills too.
Pixellab app has more than 60 editing options, which will give you a great experience in customizing your thumbnails or channel art.
This app gives your art a professionally- designed look. This is the reason why it is popular among YouTubers. You can create your channel art in just a few easy steps.
iMovie app has a very interesting feature to use. You can just screenshot a picture in your video using it and then customize it using the app. This helps users to provide an idea to viewers about the content of the video after seeing the thumbnail art.
Pixlr app is one of the best free available tools to create some pro channel art. No matter either you're a beginner or a pro, it's suitable for every single user. An all-in-one app that will give you the best experience of photo editing and customizing your channel art with professional tools.
Used by the professionals for photo editing, this app allows you to create channel art of pro-level. The app currently offers 29 different tools and filters. With their healing tool, for example, you can remove unwanted parts of a photo or use the brush tool to precisely adjust exposure, saturation, brightness, or warmth.
You can create a professionally designed look-alike channel art using Snapseed.
Picmonkey is a user-friendly online youtube banner maker. It is a great choice for beginners, as it has a huge library of fonts and 60+ effects and filters to use as a youtube banner template or youtube cover template. It offers a 7-days free trial and can be purchased for $7.00/month. Picmonkey also provides you with a complimentary mobile app.
CONCLUSION
Your Youtube channel art helps your channel to stand out of the box. You just need to follow the tips to design creative and catchy thumbnail art. We hope you got some idea after reading the information we provided and it will inspire you to create some fantastic artworks for your channel.
In order to get the best output, you should also consider the use of proper color palette to grab the attention of maximum audience.
Now just select the best-suited tool for you among these 15 and start your youtube journey now. All the best!