More than 70 million individuals use Pinterest to share and discover new things, and it's obvious that this audience is active, given that the average user spends more than 14 minutes there each time they visit.
However, it is not so uncommon that some people would like to exclude specific individuals or safeguard their content. Have you ever wondered how to block someone on Pinterest or hide pins on Pinterest? These two alternatives will give you a sense of privacy and enable you to get rid of stuff you don't want others to see. The guides you'll find below will show you how to ban users, hide content, and unblock someone on Pinterest.
Table of Content:
Why Should You Use Pinterest?
Pinterest is one of the fastest-growing social networks, and it's easy to see why: people use Pinterest to discover and share beautiful images, products, recipes, and other things they love. Here are four reasons why you should be using Pinterest right now:
Pinterest is an Excellent Social Media Marketing Tool for Business.
Pinterest has more than 200 million monthly active users, most of which are women, making it a perfect place to promote your products and services. It's also one of the most effective ways to reach new customers: in fact, 85% of Pinners say they use Pinterest for shopping inspiration. In addition, Pinterest has an almost perfect conversion rate: 79% of people who visit a Pinner's website or make a purchase are new customers. As a result, Pinterest is one of the best platforms for social media marketing software. In addition, Pinterest makes it easy to create beautiful visuals.
User-Driven Content
Pinterest is a social media platform for sharing and discovering things. It's a visual discovery tool that allows users to browse the web, find new products, save recipes, and organize their interests by creating virtual pinboards.
People use Pinterest to share their favorite products with others in an easy-to-use format that makes it simple for anyone to pin items they love from around the web or from their own photo albums onto virtual boards devoted to subjects such as decorating tips or DIY projects.
Pinterest is user-driven, meaning there are no ads on this site (unlike Facebook). So what does this mean? In short: The content on Pinterest comes from real people like you! People who want others like them out there in cyberspace know what works well when it comes down to decorating our homes, finding new style ideas, or learning how they can make small changes around their homes without breaking the bank (or going broke trying).
Pinners you Follow are also Influencers.
Another way to find influencers is by searching for keywords related to your brand. This can be done in Pinterest's search bar or by using a tool such as Tailwind or Keyword Shitter.
To find Pinners who are interested in your target audience, you'll want to use the same method we used earlier: create a group board with all of the terms associated with your niche and follow those users when they pin something relevant!
Pinners can do wonders for your brand.
There are a number of reasons why Pinterest can be a valuable marketing tool for your brand. Here are just a few:
Pinners are more likely to purchase products they pin. According to the 2017 Pinterest Pinners Survey, 87% of pinners have bought something they pinned, and 56% said purchasing an item after seeing it on Pinterest influenced their buying decision.

Pinners are more likely to recommend products they pin. Eighty-one percent of pinners have recommended a product or service based on pins from other users (compared with 66% who did so via Facebook).

Pinners love sharing pins with friends, which directly leads to sales! The same study found that 92% of consumers say they've shared at least one piece of content from another user's board; furthermore, 43% said they had done so within the last month alone–meaning there's an opportunity for your brand here if you can get your content into their hands!
Pins can Improve your Brand Visibility and Drive Traffic.
You can use Pinterest to increase your brand's exposure and reputation. You can build trust with potential customers by posting pins that showcase your products, services, and expertise and drive traffic to your website or blog.
Pinterest is also a great way to build authority within a specific industry. For example, if you have a business that sells t-shirts for pets (or whatever), people will find it much easier to find information about this topic on Pinterest than by searching Google or Yahoo!
But as we all know, there are times when you'll want to block someone on Pinterest. So next, we will talk about why you should block someone on Pinterest.
Why Should You Block Someone on Pinterest?
Pinterest is a great way to share photos and ideas with friends, family, and other people in your life—and it's also an excellent platform for sharing recipes and DIY projects. But eventually, you may want to block someone on Pinterest: when they're repeatedly violating the site's Community Guidelines or spamming you without contributing any value themselves. Here are some reasons why it might be beneficial to do so:
To Stop Seeing their Pins.
You can also block someone from seeing your profile, which means that the person you've blocked won't be able to follow you or see any of your pins. If you have a private account, this will prevent them from accessing any of the content in your feed or boards. If you're looking for ways to make Pinterest more personal and secure, blocking users is one way to do so!
To Avoid Cyberbullying.
Cyberbullying is a severe issue. If you see someone being harassed on Pinterest, report it to the platform. If you're being cyberbullied and want to take action, report the harassment to law enforcement. Also, consider reporting bullying behavior directly to the person who's being harassed–they may not realize that they are being bullied, or they may appreciate hearing from an outside source about what's happening.
To Protect your Personal Information.
Pinterest is a social network that allows you to share and discover new things. It's also a place where people can gather information about you–your interests, your hobbies, where you live, and what kind of car you drive (or don't drive).
Pinterest can be used for good or ill. For example, if someone doesn't want their personal information shared online, then it's up to them to block that person from seeing any content related to them on Pinterest.
To Prevent Negative Interactions.
If you are getting negative interactions with someone, it can be helpful to block them. By blocking the person, they will no longer be able to see what you post on Pinterest or comment on your pins. This is useful if you are dealing with someone who is rude and toxic in your life.
If someone constantly interacts negatively with you on Pinterest and/or in real life (or both), then blocking them might be recommended by a therapist or another mental health professional.
Block any Person on Pinterest.
If you want to block someone on Pinterest, there are a few things that you should know. First, blocking is different from unfollowing; it can be done by anyone with an account on the social network.
Blocking someone will stop them from being able to follow your boards, comments, or pins in the future. If they try to browse through your profile page, they'll see only your public information–not anything private or hidden behind closed doors (unless you've chosen to share that content). They won't even know they've been blocked unless they try logging into their own account while logging into yours simultaneously!
How to Block Someone on Pinterest?
Block Someone on Pinterest on the Web:
If you want to block somebody using your PC or desktop, just follow these few simple steps:
Open your web browser on your PC.
Go to Pinterest.com and log in using your ID and password.
After that, go to the profile that you wish to block.
Tap the three dots present on the top left corner of your screen.
In the dropdown menu that appears, tap the Block button.
A message will appear asking you to confirm this action. Tap Block again to complete the process and block the user.
Block Someone on Pinterest on the Mobile:
Open the Pinterest app on your mobile device.
Go to the profile of the user or business you want to block.
Tap the three horizontal dots in the upper right corner of the profile
Tap Block from the pop-up menu. The three dots are located to the right of the red Follow button. 
Select Block again to confirm the action.
How to Know if Someone Blocked You on Pinterest?
If you are blocked, you cannot see the user's profile or pins. If you want to know if someone has blocked you, try following the user or commenting on the pins.
Here are the steps to try to follow the users:
Go to the user's profile page.

Try to follow the user. There should be a red "follow" button underneath their information. Click on the button.

See if you get an error message. If you get an error that says, "Error following [username].", then it's likely that you've been blocked.
Here are the steps to comment on pins:
Visit a Pin made by that user.

Look for a comment box.

You have been blocked if you cannot see a comment box.
What Happens When You Block Someone on Pinterest?
If you're a Pinterest user, there's a good chance that someone at some point has blocked you. In fact, according to Google Trends data, "Pinterest" and "block" are searched for together more often than any other combination of words on the site (except perhaps "Pinterest" and "spicy"). When you block someone on Pinterest, they can no longer see your profile. Blocking a user on Pinterest is different from unfollowing them. If you block someone, they cannot see your pins and your account activity. However, if they have been following your profile before being blocked, they'll still be able to see all of the previously shared content (including pins).

Read More: How to Create Interactive Posts on Social Media in 2023
How to Unblock Someone on Pinterest?
Unlock Someone on Pinterest on Android/iPhone:
Step 1. Log in to Pinterest on mobile.
Step 2. Tap on the search icon below.
Step 3. Then type in the search bar above.
Step 4. Enter username/name/email id and search.
Step 5. Tap on "Profiles."
Step 6. The searched account will show in front of you. You tap on the account.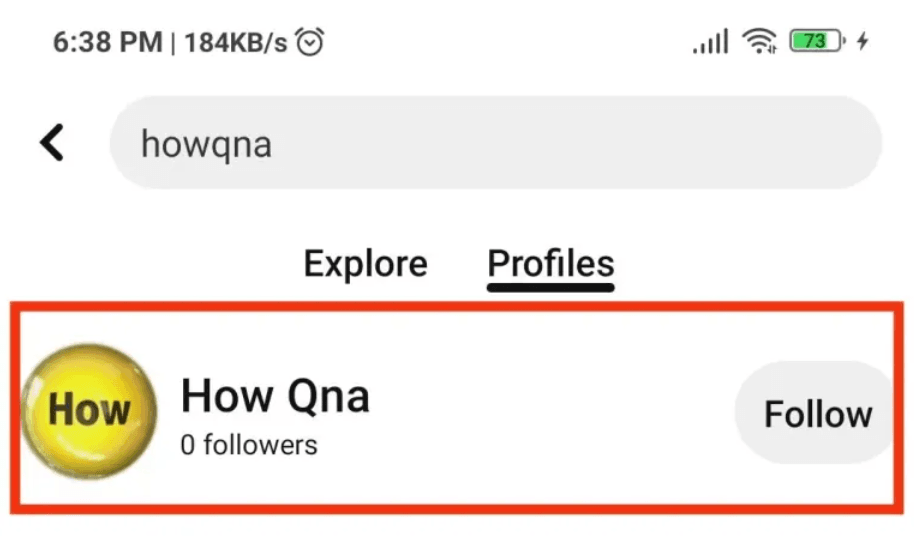 Step 7. Tap on "Unblock."
Step 8. Tap on "Unblock" again. Now that profile is unblocked.
Unlock Someone on Pinterest in Windows:
Step 1. Log in to Pinterest in your web browser.
Step 2. In the top search bar, search for the Account you want to unblock.
Step 3. Click on Profiles.
Step 4. Open the profile by clicking on Account.
Step 5. Click on Unblock. Your friend's Account has been unblocked.
How to Hide Pins from Unwanted Users?
Hiding your pins on Pinterest from other users is easy. Please follow the following steps:
Open the Pinterest app and log in to your account.

Now, find the Pin you wish to hide from the other users. You will see a three-dotted line below that Pin; tap on it.

Now, you can see a menu on the bottom of your phone's screen; choose the 'Hide Pin' option.

Finally, another menu appears asking why you want to hide that Pin; select your reason. Your Pin is hidden now.
How to Block a Business Account on Pinterest?
Blocking a business account on Pinterest is the same as blocking a regular account. So, if you are looking to block a business account, please follow the following method:
Step 1: Go to the Pinterest business user's profile by searching in the search bar or clicking their user name from one of the pins.
Step 2: On their profile page, you will see a three-dotted icon at the right side of their user name.
Step 3: Click on the icon, and you will see a new menu. Click on the 'Block' option.
Step 4: You will be asked to confirm the blocking of the user. Confirm the blocking by clicking on the block button that just appeared on the screen. You have successfully blocked a business profile on Pinterest.
Conclusion
Block someone on Pinterest/Unblock someone on Pinterest is easy to do but prevents them from sending you messages and comments. So while blocks won't keep a user from seeing your profile, the setting will prevent comments and messages from that user. Just remember that blocking a user doesn't make a post any less public, so pin to a secret board if you're pinning something you don't want the general public to know about. 
Frequently Asked Questions
Q) Can Someone See My Saved Pins If I Block Them on Pinterest?
When you block somebody on Pinterest, they will not be able to view your saved pins or even save your pins. However, if you are concerned about your privacy, you can create a secret board on Pinterest.
Q) How to Unblock Somebody on Pinterest?
If you mistakenly block someone on Pinterest, you can easily unblock them. First, go to your blocked list on the Pinterest app. Next, tap on the profile that you want to unblock. After that, tap on the unblock button to unblock them.
Q) Can I Still Message Someone Who Has Blocked Me on Pinterest?
Yes, definitely. Pinterest allows you to send messages to a person who has blocked you on the app from your end. However, the person who has blocked you will not receive your messages.
Q) How Do You Unblock Someone On Pinterest If You Can't Find Them?
If you can't find someone on Pinterest, you can't unblock them. You can't find anyone on Pinterest, which means they have deleted the account, so you can't find them.
Q) Do I Have To Wait For A Certain Period Before Unblocking Someone On Pinterest?
Unlike other platforms, Pinterest allows you to unblock someone immediately without waiting for a fixed period. So, even if you accidentally block someone, you can unblock them. 
Q) Can I block Someone Again After Unblocking Them Once?
Yes, you can block someone again after unblocking them once. You can actually block or unblock someone several times without any restrictions.
Q )How Do I Know If Someone Blocked Me On Pinterest?
Pinterest does not send any notification if someone blocks you or you block them. So, the only method to know is to search for an account that you know already exists. They might have blocked you if that already existing account does not show.
Q) What Are The Legal conditions To Block Someone?
You can block anyone with or without reason. However, the legal reasons to block or report someone can be them invading your privacy by texting you constantly or sharing inadequate material on Pinterest.
Q) Would The New Created Accounts Be Blocked If I block their Previous Account?
No, This feature is not enabled on Pinterest yet. If someone blocked previously creates a new account, you will have to block them again.